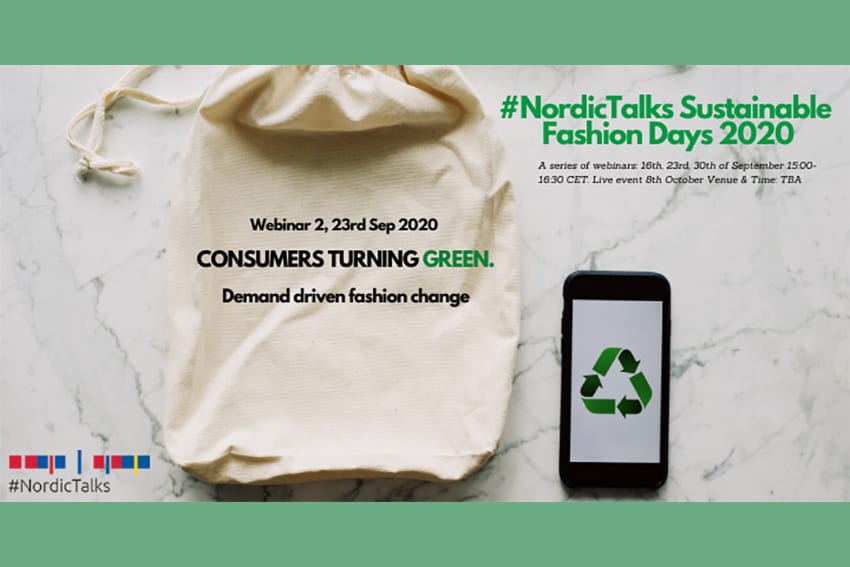 CONSUMERS TURNING GREEN
#NORDICTALKS Sustainable Fashion Days 2020
With the #NordicTalks Sustainable Fashion Days 2020 we aim to raise awareness for sustainable fashion and the environmental and social impact, to connect the sustainable fashion industry in the Nordics and the Netherlands, to support new collaborations and experience exchange, to spark the conversation and to showcase leaders and innovators.
#Nordictalks Sustainable Fashion Days 2020 is organized in collaboration with the Swedish Chamber of Commerce for the Netherlands, Finnish Dutch Chamber of Commerce, Danish Dutch Chamber of Commerce, Norwegian Dutch Chamber of Commerce, Embassy of Sweden in The Hague, Embassy of Denmark in the Netherlands, Royal Norwegian Embassy in The Hague, Embassy of Finland in The Netherlands
We are very pleased to invite all Members of the Nordic Chambers of Commerce and their relations, the Nordic Embassies, Government representatives, sustainable (fashion) networks and others interested in the Nordic – Dutch Sustainable Fashion to take part and participate in the #Nordictalks Sustainable Fashion Days 2020.

2nd WEBINAR 23 September 2020 | 15:00 – 16:30
CONSUMERS TURNING GREEN. | Demand driven fashion change
Are consumers the drivers of the change in fashion? What fashion do they want? Are they willing to change the way they shop and what they buy? Are the new fashion influencers changing the narrative and mindset of masses? When and where is the tipping point and what does it mean?
What is sustainable fashion? Why we need it? Do consumers really want a sustainable fashion?
Community building and the "new cool". Research, Influencers and front runners. Raise of secondhand/VINTAGE, leasing instead of buying
Building a clear case that sustainability, social impact and profit can go hand in hand
What to do with Influencers promoting fast fashion of Fashion Nova or About You? How to amplify voices of Sustainable fashion Influencers?
Elin Larsson, RE:Source
Program director for RE:Source since 2020. Between 2018-2020 she was running her own company Elco, as an advisor for sustainability and circularity. Before that she was the Sustainability Director for Filippa K 2011-2018. Worked for the company since 1996 within most areas of the company, from Sales coordinator, Project leader, Sales Support manager, Logistic manager to Supply chain director. Driven by a passion for finding sustainable solutions for business and society and for creating change together with people in the whole ecosystem of the industry. Has studied Sustainable transition (the relationships between economic, political and environmental crises) at Jönköping University in Sweden. Was a board member of Mistra Future Fashion for four years and an advisory board member for the UN founded programme, the Sustainable Lifestyles and Education (SLE) Programme, which is one of six Programmes within the 10 Year Framework of Programmes on Sustainable Consumption and Production.
Stephanie van den Sigtenhorst
Stephanie van den Sigtenhorst (1992) started her sustainable fashion career a few years ago. She is the founder of the sustainable fashion and lifestyle platform Let's Talk Slow and writer of the Dutch book 'A Sustainable Wardrobe'. With a positive approach, Stephanie explains how we can make more sustainable fashion choices as a consumer. After completing her studies at the Amsterdam Fashion Institute, Stephanie started working for a sustainable fashion brand. That's where she figured out she wanted to inspire people to make conscious choices and show them how good that can look. Her background in fashion helps Stephanie to make a clear translation from the industry to the consumer. Stephanie is named in a list of notable sustainable influencers by WWD and is part of the Dutch Sustainable Young 100.
Wilko Klaassen, Klarna
Commercial Belgium/Netherlands (GM BNL) at Klarna
Katariina Virtanen CEO, Voglia Oy
Katriina is the CEO of the Finnish fashion house Voglia and represents the third generation of the family company. Voglia's ambition is to produce elegant clothing without compromising Sustainability, Equality and Fidelity. Our goal is to attract consumers to understand the meaning of ethical and ecological issues by being approachably informative and transparent. We strive to continually create increasingly responsible collections, in which Sustainability is included into the term and idea of beauty.
Anja Buchcik, Head of Sustainability, Organic Basics
Moderator Andrea Orsag
Sustainability and Circular Economy Evangelist. Andrea is a co-founder at MissionC, strategy advisory based in Amsterdam on a mission to accelerate the transition to Circular Economy on a global scale. Consultant with 10+ years of experience combining Risk Management, Strategy and Change Management cross-industry, both for the commercial sector and not-for-profit organisations internationally. Helping organisations bring their ideas to life by refining their sustainability strategies, adjusting business models towards circularity, delivering programs and engaging stakeholders. Andrea also acts as a speaker, guest lecturer, expert moderator and facilitator on topics related to Circular Economy and Sustainability.
More info about the event and the guest speakers will be announced.
An upcoming series of Sustainable Fashion webinars.
3rd Webinar, 30th September 2020 | 15:00 – 16:30.  – WE KNOW NOW.
Live event & Webinar, 8th October 2020 | Time: 16:30-20:00. Venue: TBA. – BE PART OF IT.


Sponsors:
Inter IKEA Systems B.V.